FLSUN First Modification Competition
  We focus on making high speed machines, why do we want to pursue on speed that? We want 3D printers to be products that save time, power and money. It still takes longer for a 3D printer to print a model with perfect quality, and in order to explore ways to go faster, so we held a contest to increase the speed by modifying the machine.
  When holding a contest, everyone must be interested in the prizes, and this time we have more than just a printer. The first prize is a cash prize of $2000 and a FLSUN V400, the second prize is $1000 and the third prize is $500. The prizes are great, but we are still trying to help people find ways to improve the speed of their printers. The contest dates are (4.20-06.17)
  The contest is going on now, and there are also outstanding talents printing this model in good quality, among which there are several good quality users, as shown below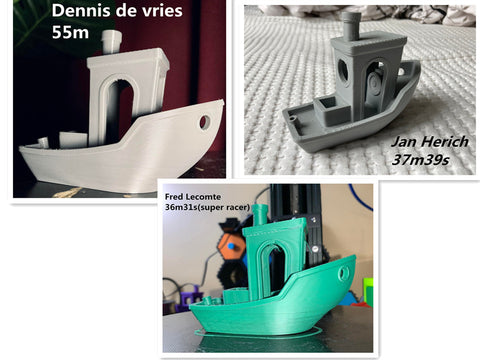 Maybe there are still some excellent works that have not been shown yet, welcome to join our group and share your results with everyone, looking forward to seeing everyone on the podium!
3D Printer Speed Race(facebook):https://www.facebook.com/groups/flsunspeedboatrace
Event details can be found here:https://flsun3d.com/pages/flsun
---